Aesthetic Plastic & Reconstructive Surgery: Glen S. Brooks, MD
776 Longmeadow Street
Longmeadow, MA 01106
Phone: (413) 565-4400
Mon-Wed: 8:30 a.m.–4:30 p.m.
Thurs: 8:30 a.m.–5:00 p.m.
Fri: 7:00 a.m.–3:00 p.m.

CoolSculpting®
Stubborn fat is one of the most common problems nagging many people. No matter how many crunches you do or how much time you spend at the gym, you may still be bothered by love handles, a muffin top, or a belly paunch. Diet and exercise aren't always effective on their own, and many people would rather not have surgery to address the fat. Fortunately, a cool solution can help you shed persistent fat without surgery or downtime: CoolSculpting. People in Massachusetts can rely on our CoolSculpting Certified Practice and the expertise of board-certified plastic surgeon Dr. Glen Brooks and certified physician assistant Julia Boucher for this non-surgical alternative to liposuction.
CoolSculpting

Before & After Photos

Before & After
Case #137
27 year old female from Western Massachusetts, 5' 6", 140 pounds. One session of CoolSculpting to the lower abdomen to address mild amount of fat. After photos taken 4 months post treatment.

Before & After
Case #136
52 year old female from the Springfield area, 5'6", 130 pounds. One session of CoolSculpting to her arms resulting in a sleeker, more toned appearance.After photos taken 3 months treatment.
Keep in mind that each patient is unique and your results may vary.
Your Improvements
Many women and men from the Springfield area choose CoolSculpting instead of liposuction because it requires nearly no recovery time and involves very minimal discomfort. Although you probably won't see a big change on the scale, CoolSculpting is effective at reducing excess fat on specific areas. It uses precise, targeted cooling outside the body to kill fat cells while protecting surrounding tissues.1 People of many ages can benefit from CoolSculpting, which can be used to slim down the following areas:
Abdomen
Flanks (love handles/muffin top)
Arms
Thighs
Buttocks
Back
Below the chin
If you are looking for more comprehensive fat reduction or need to correct loose abdominal skin, liposuction and tummy tuck surgeries are popular and effective solutions. You may also want to consider KYBELLA® injections to target unwanted fat below the chin. This FDA-cleared treatment is a non-surgical alternative to neck liposuction.
CoolMini™ for a Double Chin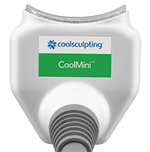 CoolSculpting's specialized applicator targets fat that causes a double chin and other small bulges. The CoolMini is designed to fit snugly below the chin and is cleared by the FDA to reduce submental fat—the kind that causes a double chin. Like other CoolSculpting applicators, the CoolMini kills fat cells with controlled cooling that doesn't damage the skin or surrounding tissue.1 It is the only non-invasive method to reduce the appearance of a double chin—no incisions, no injections.
Men and women alike appreciate the convenience and efficiency of a CoolSculpting treatment session. Patients can easily come in for treatment during their lunch hour, for example.
What to Expect
During your procedure, a thin gel pad is applied to the treatment area to protect the skin. Then the CoolSculpting device is applied by our CoolSculpting University-trained technician. Once activated, the device gently suctions the skin and fat up between 2 cooling panels, which deliver precise cooling. Fat cells are more sensitive to cold than other tissues in our bodies, so the cold causes them to slowly die off.
Initially, you feel intense cold, but after a short time, the area becomes numb. While CoolSculpting works, you can read a book or magazine, relax with your tablet, get some work done on your laptop, or take a nap. One treatment session of a single area requires about 60 minutes.
CoolSculpting Results
Some redness, swelling, tenderness, tingling, or bruising may result, but these are temporary. Most people return to work or their daily activities immediately afterward, although experiences vary. Following treatment, your body's metabolism will break down and flush out the dead fat cells. Fat reduction takes place over the next 3 to 4 months as the treated area literally shrinks. While experiences vary, many patients achieve desired results with just a single treatment. You can have additional treatments to achieve greater fat reduction if desired.
CoolSculpting Expertise
Choosing a practice with CoolSculpting training and experience helps ensure that you receive quality, reliable results. Our team is rigorously educated in the CoolSculpting process, and our expertise is evident in our CoolSculpting credentials:
CoolSculpting University Masters, Clinical
The CoolSculpting University Masters training program is an intensive 3-day educational course covering all aspects of CoolSculpting's cryolipolysis process. Our CoolSculpting technician was the first CoolSculpting University Masters class graduate in the region and was among only the fourth graduating class in the world. With her extensive schooling in the field, she earned the CoolSculpting Master Technician designation.
CoolSculpting Complete Practice
Medical spas and plastic surgery practices in the CoolSculpting Complete Practice program continue to advance their CoolSculpting knowledge and skill with ongoing and advanced training in the procedure. We are dedicated to upholding the values and requirements of this credential so that we can continue to deliver exceptional results to our patients.
Crystal Rewards
Only distinguished practices who are committed to the procedure and who have performed many CoolSculpting treatments earn a place in CoolSculpting's Crystal Rewards Program.
To find out more about CoolSculpting, request a consultation online with Dr. Brooks or call his office on the Longmeadow Town Green at (413) 565-4400.
1 Zelickson B., Egbert B.M., Preciado J., Allison J., Springer K., Manstein D., Cryolipolysis for Noninvasive Fat Cell Destruction: Initial Results from a Pig Model, Dermatologic Surgery: 2009; 35(10):1462-1470.http://www.ncbi.nlm.nih.gov/pubmed/19614940
Back to Top