Aesthetic Plastic & Reconstructive Surgery: Glen S. Brooks, MD
776 Longmeadow Street
Longmeadow, MA 01106
Phone: (413) 565-4400
Mon-Wed: 8:30 a.m.–4:30 p.m.
Thurs: 8:30 a.m.–5:00 p.m.
Fri: 7:00 a.m.–3:00 p.m.

KYBELLA™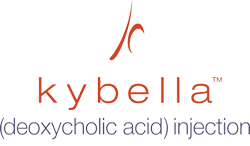 A double chin is a common aesthetic concern for both men and women. Dr. Glen Brooks and his team are among the first practices to offer a non-surgical solution known as KYBELLA™ – the "double chin shot" – to patients from Springfield, Massachusetts, to Hartford, Connecticut. KYBELLA™ injections are approved by the FDA to reduce fat just below the chin, resulting in a streamlined neck and more contoured jawline.
If you've heard about KYBELLA™ and want to see if you're a good candidate for this non-surgical treatment, request a consultation using the online form, or call Dr. Brooks' office on the Longmeadow Town Green at (413) 565-4400 to schedule an appointment.
Kybella

Before & After Photos

Before & After
Case #124
Patient from the Springfield area had 3 treatments of Kybella for a total of 5 vials to treat submental fullness and achieve a sleeker and more youthful jawline.After photos taken 9 months post initial treatment.
Keep in mind that each patient is unique and your results may vary.
Your Improvements
KYBELLA™ reduces the appearance of a double chin by using a chemical that is naturally produced by the body to help break down and absorb dietary fat. The chemical, deoxycholic acid, attacks and destroys fat cells in the area just below the chin — called submental fat — when it's injected. Like localized areas of fat in other parts of the body, submental fat stubbornly resists diet and exercise. Some individuals are genetically predisposed to having a double chin, while aging and excess weight can cause the development of a double chin in others.
KYBELLA™ represents a safe and effective alternative to neck liposuction, which can also reduce excess neck fat. You may also want to consider treatments with the CoolMini, a CoolSculpting® applicator designed to correct a double chin by "freezing" the fat cells. Dr. Brooks or one of our trained physician assistant, Julia Boucher, can evaluate your neck and talk to you about which option would suit you best.
What to Expect
The first step is consulting with Dr. Brooks or Julia to discuss the KYBELLA™ treatment and ensure it's an appropriate procedure based on your goals. When you arrive for your treatment, the area below your chin is cleaned, and you're given a local anesthetic to help keep you comfortable throughout the procedure. KYBELLA™ treatment sessions include multiple injections, so we mark a detailed grid on the neck showing where to make each injection.
We customize the treatment for each patient. Several injections are needed for most patients, although the number varies based on each person's condition. Each treatment takes only about 15 to 20 minutes, and no downtime is necessary afterward.
Results
More than 1 treatment session is necessary to reduce the fat below the chin. Most patients see optimal results after 2 to 4 treatments spaced about a month apart, but up to 6 treatments may be needed. You can return to work or other daily activities following the procedure, although there may be some swelling, bruising, and redness. If you are concerned about privacy, a turtleneck or scarf can hide the injection site, although signs will fade in a couple of days.
Because KYBELLA™ works by destroying fat cells so they can no longer accumulate or store fat, the results are long lasting, especially if you maintain your weight. You'll notice improved contours gradually over the course of your treatments as your body flushes away the dead fat cells.
Frequently Asked Questions
Can KYBELLA™ be used to treat other areas of the body?
The FDA approved KYBELLA™ specifically to treat submental fat, and its effectiveness has not been tested on localized fat in other areas of the body. "Off-label" uses aren't recommended.
How much do KYBELLA™ treatments cost?
Because the treatments are customized based on the needs of each patient – meaning the number of injections and sessions vary on a case-by-case basis – it's not possible to pinpoint a treatment price. For most patients, the cost will be comparable to or less than neck liposuction. We are happy to provide you with a customized quote during a consultation.
Will KYBELLA™ tighten my neck skin?
KYBELLA™ injections specifically target submental fat. Clinical testing didn't show that KYBELLA™ treatments resulted in tighter skin for most patients. The best candidates for KYBELLA™ have good skin elasticity so their skin will shrink to fit the neck's new contours.
If you are concerned about loose skin on the neck and jawline, neck bands, or a "turkey wattle" appearance, you may be a better candidate for a face and neck lift.
What are the side effects?
Swelling, bruising, and redness in the treatment area are the most common side effects. Temporary discomfort and hardness in the treatment area have also been documented as potential side effects. These are temporary and resolve by themselves in most cases.
Back to Top