Most of our Botox and Juvederm patients have already heard of Brilliant Distinctions, a reward program through Allergan (the manufacturer of Botox and Juvederm) where the patient is able to rack up points for future treatments, which can be used to create coupons. Up until very recently the only way to accrue points was to get treatments of Botox or Juvederm. Each syringe of Juvederm or unit of Botox is equal to a certain amount of points. Each time a patient came to our office to have a treatment our receptionists would bank the appropriate points into the patient's account and then, before their next treatment, they could log on to their account to see if the points they had were high enough to create a coupon. This point system still exists, however, Brilliant Distinctions now offers a brand new way to get points!!
Introducing….the Brilliant Distinctions MALL!!
Now, when patients log on to their BD account they have the options of earning points by shopping at the Brilliant Distinctions Mall. Before you read further if you have not yet signed up for Brilliant Distinctions, go to
Brilliant Distinctions
and SIGN UP NOW!
So, how does this Mall really work? Once you click on the Shop at the Brilliant Distinctions Mall Link on your BD home page you will be taken to a page that looks like this: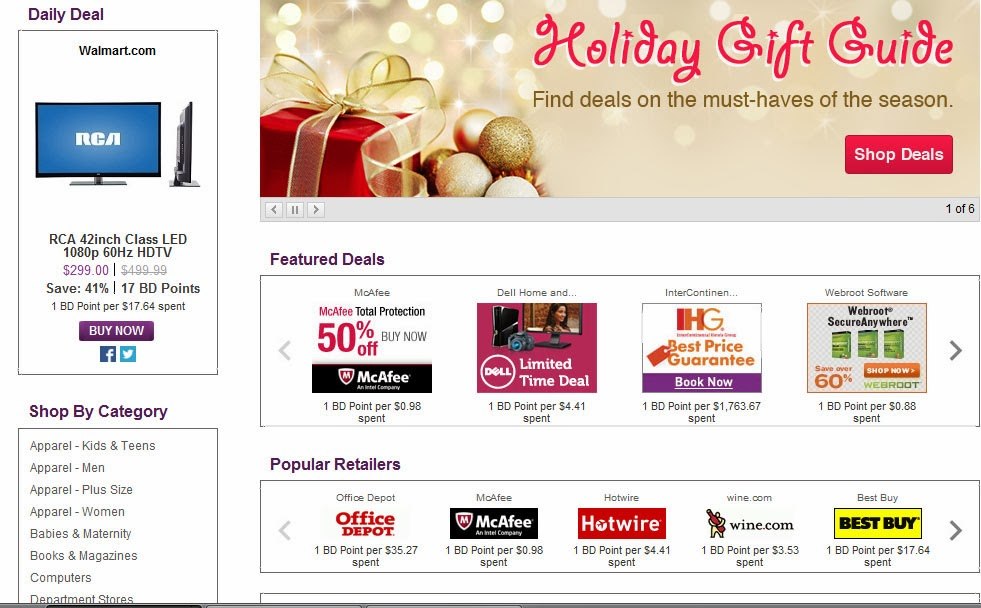 This page not only gives you access to TONS of stores that offer BD points, but it also informs you about any specials deals that are being offered! How convenient is that???
You can search for your favorite store either by category or through the search bar at the top of the site. If you aren't sure what you are looking for simply browse through the deals or popular retailers!
Once you find a store that you would like to shop at, you can click on the icon of the store and it will take you to a page showing you how many BD points you will earn per dollar and showing any deals that are being offered. Here are some examples:
Now, you are ready to SHOP!
Click the SHOP NOW purple button and it will bring you right to the store's website where you can shop your heart out!
It's a simple as that! Do your Holiday Shopping through Brilliant Distinctions from the comfort of your home and earn points for your next Botox or Juvederm treatment!
Now, go SHOP!